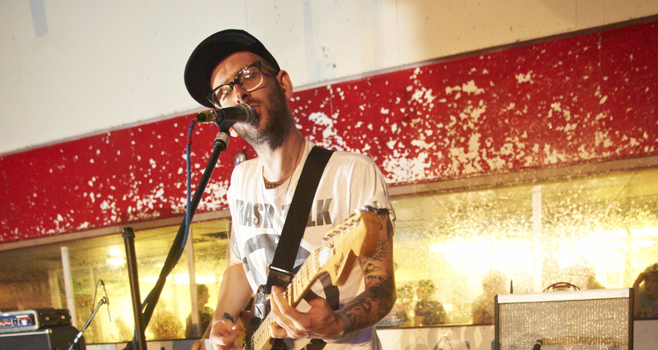 Uh! Grunts and groans – it's basically the least and at the same time the most I can say in reaction to hearing Male Bonding's new primal, churning song, "The Itch." The song succeeds in so many ways, and builds on what Male Bonding has been perfecting over the years. Male Bonding is at its best when, at first listen, you don't catch the lyrics; you are dancing in your room to a Technicolor guitar solo. But as you slow down and inevitably are pressing repeat you start to listen and get a little bummed out.
The UK trio's simultaneously sardonic and playful music is what first drew me to the group. The first single of theirs I heard was "Bones," a song that's piston-like drums and screeching guitar is almost enough to distract you from the sobering lyrical content that warns you against achieving your dreams. Their mature pop-punk sensibilities, along with Japandroids, pulled me out of a desolate, molding cave filled with old Blink 182 and Simple Plan CDs. The songs are catchy enough that they could be enormously successful—and as it stands now they are at the very least criminally underrated—but their approach is enough to make critics swoon.
At 16, most of us were wildly ambitious and in way over our heads, maybe some (or a lot) of us dreaming of being famous rock stars that got to tour the world. And this is Male Bonding at its finest, but Male Bonding is a famous, super rad rock group that gets to tour the world. So, when the chorus hits: "Things I have done, things I have seen/ Still miss that buzz from being sixteen" it gives you a little hope that maybe you're doing something right after all.
Male Bonding is really treating us at the moment with not only "The Itch," but also two other singles: "It's Called Structure," and "That's Your Lot."