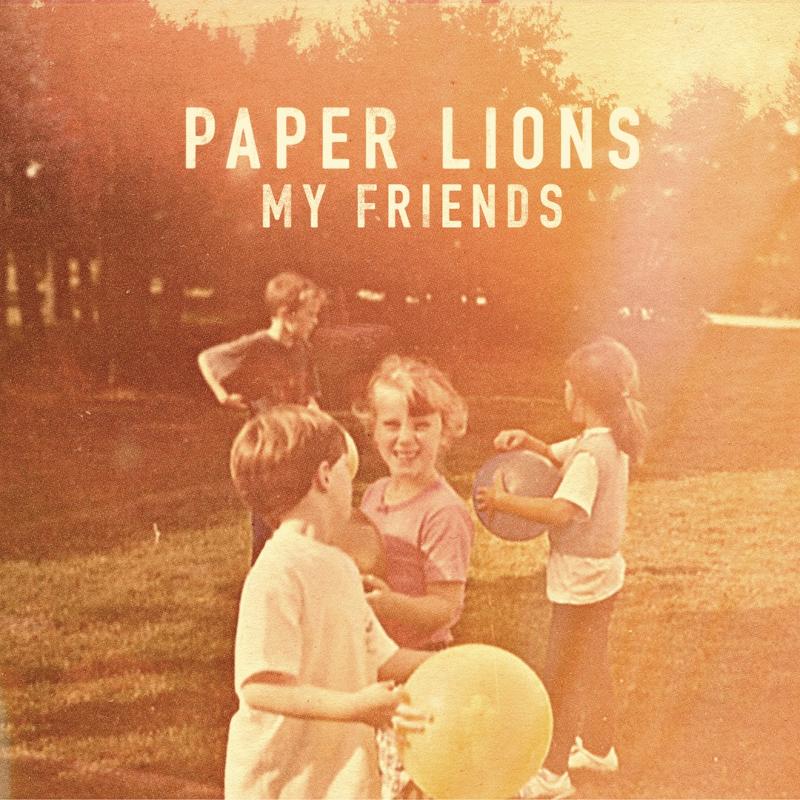 You know, I like Paper Lions. I like their new album, My Friends. I like that sometimes lead singer John MacPhee sounds like Brian Wilson and I like it less when he sounds like a version of Brian Wilson that just inhaled helium. I like that Paper Lions sing about their friends, about going on road trips and vacations to Philadelphia. Paper Lions sing songs stuffed-filled with nostalgia and wishful childhood ideals like a piñata ripe to be busted open and feasted on, and I like that, too. These songs would fit perfectly on the soundtrack to Garden State, which is a movie I like. But you know what else? I don't love Paper Lions.
Paper Lions tend to stick to a formula that leaves most of the songs sounding more or less the same. On my first listen, I was getting carried away. The songs are very catchy and each of the songs has a chorus that would be perfect for sing-a-longs with friends, but by the third song, "Sandcastles," I was already thinking to myself that this is all starting to bleed together. This formula that the Paper Lions have committed to, sometimes they throw in all their parts, and out comes an absolute standout track. In that corner of the ring, the "My Friends" channels the lightweight champions of exactly this type of rock – Foals – with satisfactory verses that serve as precious building blocks to a killer chorus with skillful, interesting guitar progressions. They follow up the titular track with another song that make my complaints appear from a seriously nitpicky curmudgeon in "Little Liars." "Little Liars" is a gorgeous song that I could probably convince people is a Real Estate B-Side, with all the same melodic flows that make Real Estate's self-titled album the ultimate road trip album for a sunny day.
However, the same kind of magic that always manages to pop up in albums from Foals and Real Estate, is missing from other tracks on My Friends. That incalculable, unquantifiable quality that makes the option of dancing irrefutable when a song like Foals' "My Number" comes on. Or a sound that makes you wonder why you never thought to just drive aimlessly before like how the entirety of Real Estate's Days has a way of making you question all of your lifestyle choices that led you astray from your Jack Kerouac-ian destiny.
This is not to say that the record is without absolutely stellar tracks,which at the very top of that list is far and away "Philadelphia," a song that has the ability to make you feel things that you thought you had long grown out of feeling. A song written about the two band-forming-brother's first vacation they ever took with an intro that would make Simon & Garfunkel proud, but churns on into grander guitar territory. It's a simple song that hits on all the right emotions and maybe it's just because I have two brothers of my own, but the lyrics capture the rush of vacation. A scene took in through the lenses of childhood of everyone carrying on with everyday life as you meander through a place that you will just have these small memories of. That's Paper Lion's magic. Now that they know how to conjure it, they just have to capture it. 

Don't take my word for it, though, hit the road with some siblings on August 20th when the album comes out and give it a thorough listen.
Get primed (maybe just some rides around the block) with their singles from the album, "My Friends" and "Philadelphia":