Franklin Morris is a man with a lot of angry things to say.  After having endured unemployment, divorce, and a slew of other defeats, who could blame him?  While Morris faced such challenges, his Austin-based band, Murdocks, suffered along with him.  Amidst the devastation of being dropped by its record label, the band also struggled with maintaining a functioning lineup.  However, with the recent release of their album, Distortionist, it's safe to say things are certainly looking up for this indie-rock trio.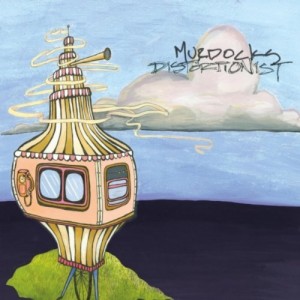 The album begins with "OMG," an upbeat, anthem-like track that introduces the high-energy sound that characterizes the entire record.  While distorted guitars dominate the song, they do not drown out the catchy bass line that finds itself perfectly balanced with the unpredictable guitar solos.  Several memorable tracks follow, including "Tongues," a song which maintains the fun, punk rock sound of the first track.  However, this song's lyrics delve deeper into the band's (mainly Morris') personal struggles as the vocalist sings about infidelity amidst the familiar sound of wild guitars and heart-pounding percussion.  "Tongues" is followed by "Die Together," perhaps the most catchy track on the record. A killer bass line drives the song while the arrogant attitude in Morris' vocals compliments its lively sound.  "Black Jesus Knocking" makes great use of the bass-driven sounds before it, boasting of the most intriguing intro on the album.  In this track, the band's angst and frustration takes full form as its vocalist sings, "I am the rage of everyone."  If this track isn't forward enough about Morris' anger, then the album's last song, "Windower" sets things straight.  A slower, more mellow sound accompanies the vocalist's accusations of lying and cheating, ending the album with one last vent of pent up indignation.
This record certainly does a great job of maintaining the energy with which it begins.  Although such energy can sometimes border an exasperated, tiresome sound, the band's ability to create an album in which tracks follow seamlessly after one another is definitely deserving of commendation.
Rating:





(2.5/5)