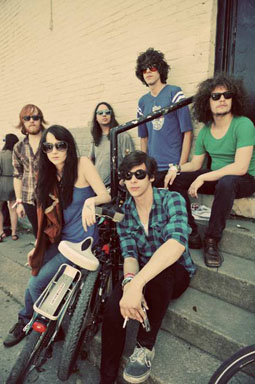 Sleeper Agent's debut album Celabrasion has not stopped spinning since I received it in the mail less than a week ago. It will be out on Mom & Pop on August 16th and they just set out on a tour with Cage the Elephant and Manchester Orchestra. If the above points aren't enough to tell you that "these guys fucking rock," then I'll spell it out for you: their take-no-prisoners high-energy garage rock is only properly experienced at high volume and with repeat listens.
I was recently given the opportunity to interview Sleeper Agent. No bullshit.
S: First off, Sleeper Agent is a sextet, which is a pretty large group. How did you all meet? What's the dynamic like?
Sleeper Agent: A lot of us have been playing together or watching each other's bands for years (as far back as 2004). Bands would crumble and I guess we're the hodgepodge of a scene from yesteryear. Alex, joined in 2010. She's from Ohio, we met her whilst she was opening for Sleeper Agent's original lineup in 2008.
S: Also, you all have nicknames–Tutone, Kidd, Keyser, Grizzlee, Saga, and Junior. How did those come about and do you go by those on a daily basis?
SA: We don't take ourselves too seriously and the nicknames have become a way of rib-poking each other (i.e, Alex is by far the youngest [Kidd], Tony plays with no pedals using only a clean or distorted channel [Tutone)]) Depending on our mood, we'll interchange the real names and nicknames.
S: You and Cage the Elephant are the only two bands I can think of from Bowling Green, KY. You've also toured with them quite a bit. Are you all close?
SA: Justin, Tony and Scott have been stomping around with those guys since they were in Perfect Confusion. We consider them family.
S: Are there any other bands in Bowling Green that we should know about?
SA: Schools ( http://www.reverbnation.com/schools ). They're on their way up. By far our favorite show to catch on break. We saw them four times on our last break.
S: Some of my favorite bands have guy/girl duo vocals. When you started the band, was there anyone you were emulating or did you just think "we both have great voices, let's both sing"? …
SA: Tony was really into the XX at the time (he just wondered what it would sound like faster). Lady Antebellum is pretty rad too… just kidding.
S: I know you were at SXSW this year and I'm certainly regretting missing y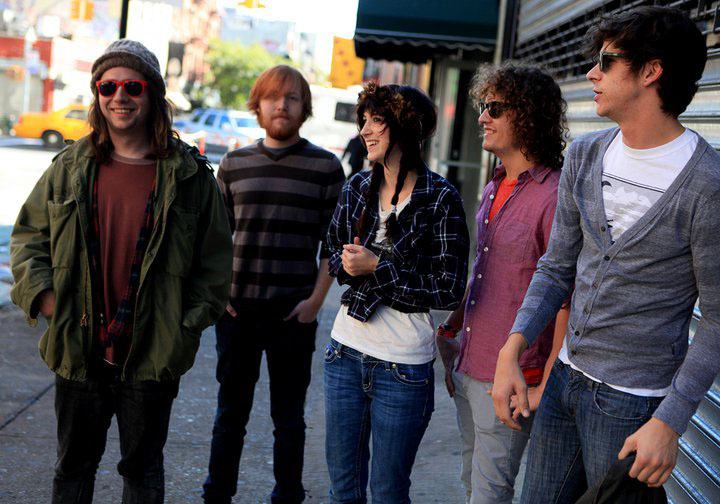 our sets. Were you able to see any good bands while you were there? Any favorites?
SA: We were charmed by the lovely duo An Horse. We caught an amazing guerilla style set from Vicente Gayo. We cut loose to the Queens of Stone Age and caught up with our buds in MONA (two of the members are from Bowling Green too).
S: You just started on a West coast tour with Cage the Elephant and Manchester Orchestra. Is there any truth to the rumor about dates with Biffy Clyro? Are you a fan of theirs?
SA: We actually did 11 shows with them and Cage back in April. We haven't heard of any future dates with the Biff. But, we miss them and would love to throw down again someday soon. We all still hum "The Captain".
S: How was it working with Jay Joyce on your album Celabrasion? Was there anything specific you learned during the process?
SA: Jay could be in Sleeper Agent. He works fast and hard and isn't afraid to be a punk. We like to churn out songs and Jay helps us crank it out.  We learned how to work our asses off. Celabrasion was recorded in 7 days.
S: You mentioned that, among other things, horror and sci-fi flicks and stand-up comedians were inspirations on the record. What are some of your favorites?
SA: Halloween. Sleepaway Camp. HauntedWeen (filmed in Bowling Green, "Imdb" it), Texas Chainsaw Massacre, Evil Dead 2.
Battlestar Galactica, Terminator 2, Children of Men, Moon, Fifth Element and loads of Sci-Fi novels.
Bill Hicks, Mitch Hedberg, Louis C.K. (his show on FX is amazing and got us through some rough patches over the last year)
S: You guys have been getting a lot of attention in recent months. What do you consider your biggest success so far? Anything that made you say, "wow, we're on our way."
SA: Listening to the record together for the first time was a great experience. However, recently our biggest success has been the overwhelming response from the people at our shows. It still surprises us.
S: Is there anything particular that sets Sleeper Agent apart? What makes you special?
SA: There's no bullshit.
S: Thanks for chatting!
Sleeper Agent by Sleeper Agent
Sleeper Agent Website | Sleeper Agent Facebook | @_sleeperagent