My photographer Catharine and I showed up at Club Nokia about 6:30 pm on November 23rd to a shiney, modern, second-floor venue, relatively empty for what was supposed to be a sold out show. The crowd ranged from old dudes in kakis to young guys with baggie pants and studded belts, to girls in platform boots and fur coats. There was a pretty obvious separation between the hipster rockers who came to see JET and the grungy metal bro-types who came to see Papa Roach. If nothing else, this show promised to be interesting…
The first band on stage was one called After Midnight Project. A scary-movie-type synth open led up to the guys taking the stage with their screams and jumping into a sort of thrash metal backed by a drum machine. Their style reminds me of a cross between H.I.M, Hinder, and Hawthorne Heights. Their set was full of throwing rock hands, shredding guitar solos, and the occasional dance or Big Band breakdown. The lyrics were full of obvious rhymes and cliché lines but the musicianship was pretty impressive. Frontman Jason seemed to be imitating an exaggerated version of a rock star, but his antics riled the crowd and being backed by average musician-looking dudes gave the band legitimacy. The band got a good response from the crowd, a good number buying CDs from a merch guy wandering the pit.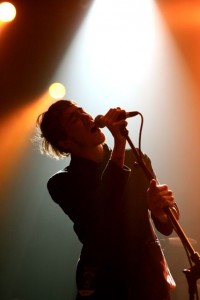 The next opener quickly became a new favorite of mine. Billy Boy on Poison, as eccentric as their name, rocked the stage with their funky Americana rock n' roll and their nonchalant yet spastic front-man decked in suspenders and a New York Times t-shirt. Their opening song shouts, "We are the Revolution," a nod to the sixties rock that inspires their sound. They jammed out a new song "I'm Ready" with violently sexual lyrics, "I can't see your face but I can smell your c*nt" and their soon-to-be next single "Happy Valentine's Day" with blasphemous and critical lyrics (better listened to than quoted). Frontman Davis told the crowd about his pot-smoking habits and his accident involving hair-cutting shears and his ball sack. Between their badass rock and Davis's quirky performance, they got my attention and my two big thumbs up.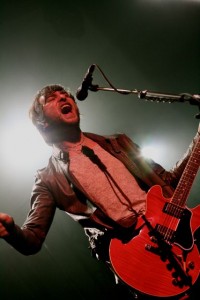 Jet, the band I had most been looking forward to, did not disappoint. Donning all black throughout the band—blazers, leather, jackets and collared shirts, these guys conjured up some authentic rock n' roll. Jet played their new single not far into the show. An ironically named song, "She's a Genius" begrudges the popular girl who "only listens to the radio to see who's alive." All the guys in the band were rocking hard – the set was laced with tambourine, cowbell, and touring member Louis Macklin was even juggling keyboard and a second set of drums. For one of my favorite songs of the night, frontman Nic Cester dawned an acoustic guitar for "Walk" which starts as a piano pop song and progresses into their usually bass-y funk rock. They followed it with the classic-rock-esque Aerosmith-style "Get What You Need" during which Nic got down into the crowd and shook some hands of excited fans.
While until this point, the vibe in the venue stayed relatively mellow, as soon as Jet started in on "Are You Gonna Be My Girl," everyone in the place was clapping, screaming, dancing, and singing along. This may be the only song most of the crowd knew, but Jet was an enjoyable band to watch whether either way. What Jet does well is play on the classic rock style and give it a modern spin. They seem to be stuck in the one-single rut but the songs they played off their new album Shaka Rock like "Seventeen" and "She's a Genius" are definitely worthy of making another radio splash for Jet.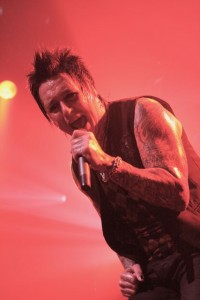 After a long set change, Black leather and tight pants filled the stage below the elevated drum set and the stage lights flashed like a haunted mansion strobe light. Lead vocalist for Papa Roach Jacoby Shaddix was decked out in a red and black harlequin pattern vest, metal chains around his neck, and eyes buried in days worth of eyeliner. These guys were prepared to rock the stage with a vengeance. In the midst of one of the first songs, Jacoby clenched the mic between his teeth and laughed like a crazy man, adding to the "metal" of his stage persona. Guitarrist Jerry Horton threw his long hair in the air while he went crazy on his axe. During "Broken Home" the crowd jumped and screamed to the lyrics of "I know my mama loves me." Pissed off and sweaty, Jacoby began an intro of what sounded like The Ramone's "Blitzkrieg Bop" and turned into their song "To Be Loved" which included some Linkin-Park-type rock-rap. Papa Roach may be the kind of band that appeals to the blue-collared dudes and the broken-home kids but everyone in this Los Angeles crowed pulsed the floor from their jumping in time with the heavy bass pulse for "Getting Away with Murder." Rock "horns" thrashed with head banding per the band's request. Jacoby screamed "You like that shit, huh?" and conducted the crowd to scream louder. On a more somber note, he dedicated "Scars" to his sister who's "been through a lot of shit just like I have," saying that the song is about being on the bottom and pulling yourself up and as the song played, everyone in the venue screamed the lines "GO FIX YOURSELF!"
The band consists of really great musicians and some awesome performers. They know how to command the crowd and the excitement oozed out of the fans. To be honest, I didn't expect much out of these "bro"-type rockers and although I wouldn't go as far as to say I left a fan, I think I was at least persuaded to understand their appeal.
The night was pretty awesome. Everything went smoothly, none of the bands were terrible, and we left unscathed. Woot!
Can't get enough of the photos? Even more available on our Myspace album Papa Roach and Jet at Club Nokia