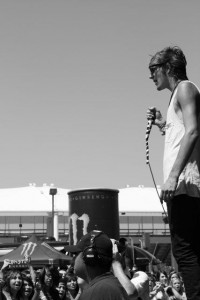 All of Catharine Acurso's photos can be found here
Interviews, Round 1! can he found here. More coming soon…
The day started off with some downtime so photographer Catharine and I headed out to a few bands that we might have otherwise skipped over. The Maine's audience was filled with screaming girls jumping and singing to songs like "Everything I Ask For" and "I Must Be Dreaming." It was already scorching hot, yet it didn't seem to effect anyone's excitement for the band. The Maine's music was perfect for the weather—summer songs that only made me wish I had a popsicle. They closed out the set with a cover of Dead Leopard's "Pour Some Sugar On Me" with a funky bass line and heavy drums.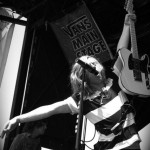 We stopped off for a brief glance at a couple of bands. The first: We the Kings. Catharine grabbed a couple of shots of the band while I hung in the back to tell people about the site. The band sang their hearts out to their songs "Whoa" and "Secret Valentine" (a song frontman Travis claims is "entirely about sexual intercourse" so he shouts for the crowd to have intercourse.)
On the way back, we caught a bit of Saosin. The fans were crazy and the bass was pumping so loud I could feel it across the blacktop. Tons of crowd surfers were up for "Voices" and it seemed pretty intense.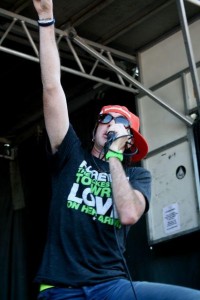 Instead of joining the crowd, we decided to head over to see You Me At Six sing for their hot, sweaty pop punk set. With heavy bass, rock distortion, and hangovers from the night before, You Me at Six played "Finders Keepers" to a huge crowd—much bigger than I saw the rest of the day at the Kevin Says stage.
Forever the Sickest Kids was, as always, a huge, fun, sweaty dance party.  Jumping right in with "Hey Brittany," the guys told the crowd that Los Angeles is their favorite city outside of Dallas (their hometown) and encouraged the kids to make the crowd look as if its on a trampoline (essentially jump as high as they possibly can). After playing the crowd against each other as "side good-looking versus side better-looking" and "boys versus girls" they jammed out upbeat renditions of "Believe Me I'm Lying" and "She's a Lady."
The next band was one I hadn't heard before, but caught my ear. Single File from Denver, Colorado had vocals similar to Max Beemis of say anything, but their pop punk style was all their own.  They played their songs "September Skyline" and "Velcro" while one of the guys encouraged fans to come meet them at their tent after and the other to "pat him on the butt. He likes butt stuff."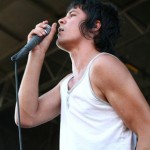 This Providence from Seattle (with accents that might suggest otherwise?) were the next band we checked out on the Kevin Says stage. If it's possible to shred with a tambourine, This Providence did just that. In "Playing the Villian," the lyrics are viscous: "I hate who you've become, I don't know you anymore." You'd never know so much rock came from men with such baby faces. Everyone clapped along to "That Girl's a Trick" and everyone shouted the lyrics to "Wolf in Sheep's Clothing" with their hands in the air.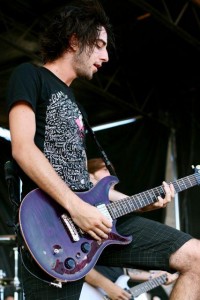 As the sun started to set, the bands only kept getting better. All Time Low hit the stage to "I'm getting fucked up…lets get drunk." The ATL crew kicked off their set with their newest single "Weightless"  jetting quickly into their foul mouth antics: "This is not a g-d damn concert, it's a revolution… filled with dicks and titties, blood and sweat and tears… and cats that I hit in my car on the way to work… which is not true because I've never had a job in my life." They played all their favorites—"Jasey Rae," "Poppin' Champagne" (with a rock thrash interlude), "Lost in Stereo" (off their newest release Nothing Personal), and "Six Feet Under the Stars." Someone threw a pair of boxers on stage dripping with sweat and later Alex yelled that we all needed to get "a little more naked." All ages of women (and men in women's pants) were singing along to the poppy pop punk hooligans.
And now for my favorite part of the day: A Day to Remember. A band I've recently fallen in love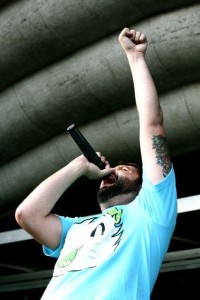 with, ADTR's set quickly stole my heart. Super high energy and a sea of moshing and fist throwing. The air seemed to cool down just in time for the set so that we could mosh especially hard. The guys on stage seemed so genuine and earnest. The band shouted from the stage that "LA has been here from the start." They sang an equal number of songs from their newest release Homesick and older songs like "I'm Made of Wax, Larry, What Are You Made Of?" and "Show 'em the Ropes" with intense lyrics and even more intense guitar shredding. I felt the music through the crowd and it was a great feeling.
Watching Bayside is always like being in on one dark joke about yourself. It takes a true Bayside fan to shout at full volume back at Anthony, "I swear I can't stand this place and what's becoming of me the longer I have to stay." Bayside's lyrics are self-deprecating, but far from defeatist. The rebellious attitude comes out through shredding guitar solos and bass that make fists fly. This is what made Bayside's set so exciting to watch. Most fans in the crowd knew every word and were yelling them with their rock faces on. The band played a good mix of their two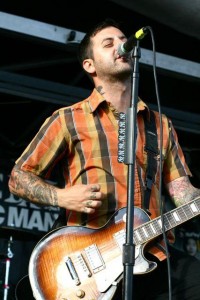 most recent releases Shudder and The Walking Wounded and a few of some oldies. "Devotion and Desire" set the mood for the set as Anthony's smooth vocals wailed "I know the spark inside your eyes was just the match I use to set myself on fire." Playing other favorites like "The Walking Wounded," "Carry On," and "Head On a Plate" caused the few who weren't singing along to mosh in a circle pit.
Hit the Light's style always surprises me a little. The guys look pretty tough—the lead singer is a white dude with a shaved head and looks like he could lift me over his head—but their style is more pop than punk and some of their songs even have a dance beat. They hit the stage to Christina Millian's "A.M. to P.M." ("Somebody hit the lights so we can rock it day and night") and then some pretty hardcore screams came out of frontman Nick. I was surprised at the amount of moshing to songs like "Breathe In" and "Back Breaker" (although to be fair, "Back Breaker" has some heavy breakdowns and screaming). They remind me a bit of New Found Glory if not for the style and high energy, then for the way they command the crowd. Hit the Lights played "309" per request of a couple of screaming fans and closed their set with their popular "Drop the Girl" and a hardcore cover.
We briefly checked out Meg & Dia before heading over to 3Oh!3. They sound exactly how you would expect two 5 foot 120 lb girls to sound—high pitched and sweet. We didn't stay for my favorite song of their's, "Monster," but their funky groove on "Going Away" was pretty cool.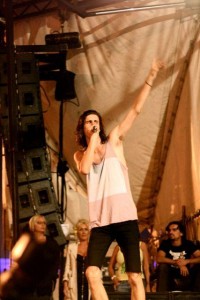 It's rare that I stay till the end of the day at Warped Tour but this year it seemed as though over half the attendees had the same reason to stay–3Oh!3. 3Oh!3 has managed to confuse people into liking them. Not that their music isn't awesome, but they defy categorization and therefore manage to cross over some thought-to-be impenetrable divides.
- Are they serious or are they making one big joke?
- Are they rock or hip hop? Or something else entirely?
The last performance at the last warped tour date of its 15th year, a couple thousand people stuck around not to discuss what 3Oh!3 means, but to raise their "3O3" hands and shake their booties, mosh, and crowd surf. From "Punkbitch" to "Rich Man"  to "Colorado Sunrise" to some new material, there were hardcore 15-year-old boys moshing alongside preppy 18-year-old sorority girls dancing next to some metal dudes. The two white guys on stage doing choreographed "crump" dancing singing "Choke Chain" to heavy guitar and three drum sets (they invited a couple of guest musicians) seemed odd, but fun. It didn't make sense, but maybe that's why everyone loves it so much. Myself included.
At the end of the day, Warped Tour's 15th anniversary was pretty successful.  Lots of great bands, some I heard for the first time, some I saw live for the first time. I came home with a bunch of posters, a backpack full of flyers, and a tape recorder full of interviews…