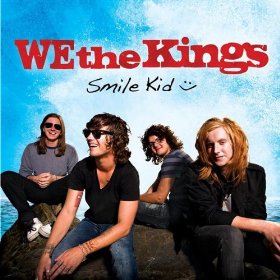 When you put together Travis Clark (lead vocals, rhythm guitar, piano), Hunter Thomsen (lead guitar and backing vocals), Drew Thomsen (bass guitar, backing vocals) and Dan Duncan (drums, percussion), you have a band called We the Kings from Bradenton, Florida.
The name Smile Kid is a line that comes not from a title song but rather from the fourth track on the album, "The Story of Your Life." I'm not sure a story of my life would coalesce into a song that sounds like We The King's version, but nonetheless, it can't be denied that it is a catchy tune.
Next on the list is "In-N-Out (Animal Style)," a song that probably has some sort of sexual double entendre but after I read the title, I was too busy driving to my friendly neighborhood In-N-Out for a cheeseburger to notice the song's potential deep-seated meaning.
The next song in the repertoire is "We'll Be a Dream," featuring Demi Lovato (aka one of Disney's over-promoted tween stars). I think that's all that really needs to be said about that one.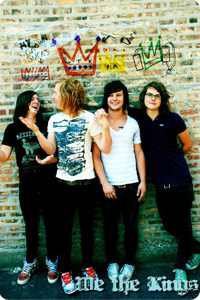 As I continued to listen to the album, I found myself thinking "hmm, quite a few of these songs sound oddly like something that once played in the background on an episode of  'The Hills.' This thought turned out to be quite ironic because their song "Check Yes Juliet" (not on Smile Kid) was in fact, in an episode of said show. That's not to say good music can never come from an MTV reality show, but in my esteemed opinion as a music writer, it rarely gives an album or song any brownie points.
I suppose now is as good a time as any to mention my distaste for albums that put acoustic versions of earlier songs on the album at the end. Maybe I'm cheap, maybe I'm picky, but having the same song twice on any album, in any capacity just feels like a rip off to me. I want to get my $10 worth and have every song be new and original (even though "big" bands like Coldplay have even pulled this shtick before).
Smile Kid is what I like to call a good "summer album" with an "infectious pop sound" (and not just because there's a song on the album with the word "summer" in it). What is a "summer album?" Well, based on my own personal definition, such an album is one that is a) terribly catchy b) can be played ultra-loud from any form of vehicle with the windows rolled down, c) though it qualifies for point "a" and "b," you never really listen to the lyrics or what the songs themselves are about d) after coming to terms with "c," you bob your head and tap your fingers accordingly.
I would not say the album was my least favorite of all time. It's catchy and found myself tapping my foot along to the beat on more than one track, I was just faced with mounting skepticism as I continued my listening party. If any song you ever produced at any time appears in an MTV reality show about spoiled Los Angeles-based celebrity-wannabes, combined with having a well-paid Disney actress appear on one of your songs, that unfortunately does not scream "serious band!" for me. Instead, it screams "we want to be famous!" a little too much for my taste which sadly ruined my enjoyment of the majority of this album and of the band in general.
Rating:





(1.5/5)