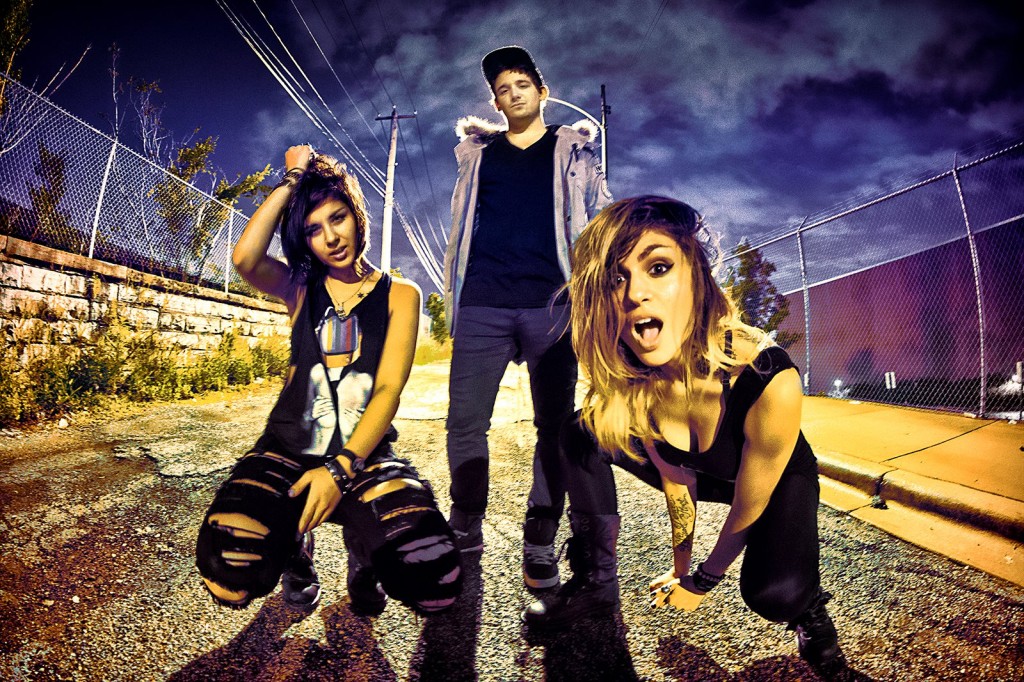 Thanks to this video, all I wanted to do this week while I had finals was party my face off and take whiskey shots. Krewella had a huge commercial breakthrough last year with their Play Hard EP, and has captured the hearts of the American electronic scene with their live performances. Their new album Get Wet is set to release on September 24th, and  if the single "Live for the Night" is a sign of what's to come we can expect their first full length album to packed with bass-heavy bangers. 
Directed by Grammy award-winning group Aggressive, the video for "Live for the Night" features a massive warehouse rave in a dystopian society, where the masses are kept complacent by technology. The groups previous success is evident in the production values as several opening shots show the towns residents with glowing, fuzzy eyes transfixed on tiny computer screens. Sparks start flying as the trio Kris "Rain Man", Jahan and Yasmine begin hacking at the power lines, and as the song builds to it's final drop a crowd appears at the gates. They arrive just in time for a huge party hosted by none other than Krewella, complete with champagne showers and girls kissing. Not only does the video offer a critique of our current media addiction, it also does a terrific job of capturing the raw energy the group brings to their shows. And it doesn't hurt that sisters Jahan and Yasmine Yousaf look stunning as always.
"Live for the Night" picks up musically right where songs like "Alive" left off, with a hard-hitting bass line and catchy chorus. The drops feel as big as ever, and the sisters alternating vocal melodies sound great. The lyrics don't offer much in terms of depth, but that hardly bothered me as I was dancing uncontrollably and shouting along "You can say that I'm a dreamer, but I bang it super loud turn that bitch into a screamer". It's the type of music meant to be performed live, and Jahan and Yasmine are doing it like rock-stars.
Along with their album set to release September 24th, Krewella has been busy promoting their massive Get Wet tour that will take the trio all over the US and into Canada. Watch the video below and check out Krewella's site for free downloads every Get Wet Wednesday!