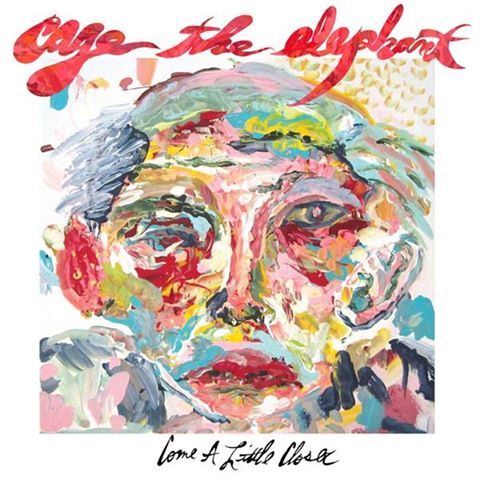 Cage the Elephant has never been a band constricted by a particular style, and they have continued to evolve and develop their sound with this new single, "Come a Little Closer." After their first album and "Ain't No Rest for the Wicked" took radio stations by storm and their second album Thank You Happy Birthday established them as more than a one hit wonder, Cage the Elephant had been remarkably quiet. But now their new album Melophobia is set to release October 8th and the lead single "Come a Little Closer" has quickly topped the charts as the number one most added track for Alternative Radio in the United States. 
The song opens with a hearty bass line and moody surf-punk guitar riff reminiscent of The Growlers or The Pixies, but when Matthew Shultz's voice comes in it is undeniably Cage the Elephant. Their lead singer has toned down his usually rough vocals for a grainy, echoing croon that almost reaches a falsetto as he sings "Do you understand the things that you've been dreaming?" It fits well with the psychedelic influences and the song seems to ebb and flow as it follows their practiced soft-loud-soft style. Shultz's voice sounds more mature than in previous albums and is at its best when paired with the epic drums and pulsing, atmospheric guitar that begin building just after the bridge and finally explode into the final chorus. "Come a Little Closer" lands sonically somewhere between their debut album and Thank You Happy Birthday, so it is the logical next step for Cage the Elephant, yet somehow I still feel like something is missing.
Here is the dilemma I am having with this new single: I love that Cage the Elephant is devoted to progressing as a band, and I love that they don't care about critics or mainstream music sensibilities. When I think of Cage the Elephant I think of Matt Shultz's open-throated screams and howls in songs like "In One Ear" and the powerful, screeching guitar riffs of songs like "Aberdeen." It was this Southern swagger and balls-to-the-wall energy that drew me to them and I have always hoped that they would keep this rockstar attitude as they grew up. Yet at the same time, the biggest complaint I had about Thank You Happy Birthday was that it didn't function as coherent piece because it was attempting to go in too many different directions at once and lacked any sort of consistency. The challenge for Cage the Elephant with Melophobia will be to incorporate the raw energy of their previous albums with the new psychedelic surfer rock style. It will be really interesting to see where Cage the Elephant has gone with their new album, but for the moment we will have to be content with this extremely catchy, promising single. Listen to it here or get it instantly when you pre-order Melophobia off of iTunes!