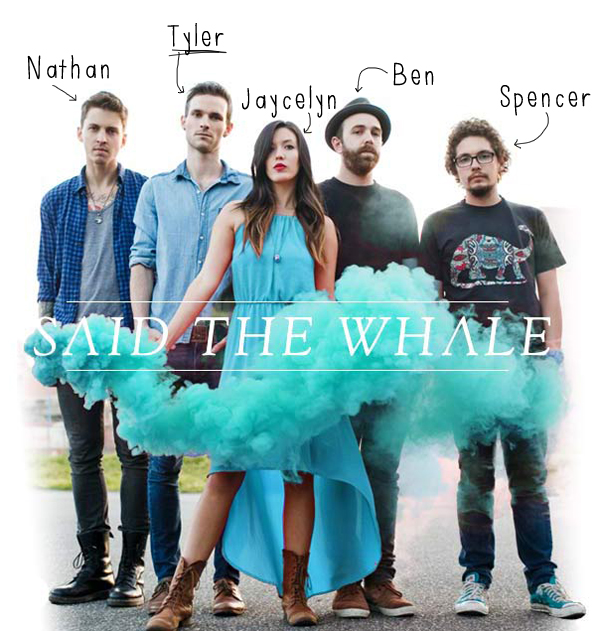 Vancouver based indie rock quintet Said The Whale is midway through a summer tour after just releasing the very well received "I love you" EP (Spotify / iTunes only $2.99!).  Luckily for us Tyler was able to take some time off from their very busy travel schedule to answer some questions for Addicted2Shows' staff writer AJ Dent.
Audio of interview below:
Listen while you read:
AJ: It looks like you guys are down around San Diego today?
Tyler: Yeah, we will be there today. We're just driving down the I-5 right now.
AJ: Awesome. Well, if we could first talk about the I Love You EP that just came out – very exciting. It sounds like in these tracks there's some struggle going on for personal growth, and it seems like you frequently reference family dynamics. What was some of the inspiration behind those songs?
Tyler: Probably family is a huge influence on me and on Ben. It's hard to say why all that stuff sort of came out at once. I really don't know what it is; there's never any real rhyme or reason why we write about what we write about. It's just whatever happens to come out when we sit down with a guitar and a piece of paper.
AJ: It sounds very organic, just naturally coming out.
Tyler: Yeah, that's definitely what happened. I sat down writing with just a very clear head and not trying to write for any particular audience or towards any one specific subject, but that's just what kept reoccurring.
AJ: I did read that "Barbara-Ann" was partly inspired by a couple that sells hammocks, is that right?
Tyler: Yeah, Ben used to work for them.
AJ: Was the title actually her name, or is it just a reference to the 1960s song?
Tyler: Well, the title was meant to clear up any confusion as to what a "BA" is, because obviously the song keeps saying, "You can be my BA," and a lot of people's first reaction was, "What is a BA?" So a BA is Barbara Ann, which is her name, so we just title the song that to clarify that.
AJ: These three songs that you chose for the EP kind of encapsulate the most summery sounds of the upcoming full-length album. Does that mean that we should expect more of the same, or do the rest of the songs have heavier sounds?
Tyler: It's pretty diverse as usual, because we've always been a band that's dabbled in a lot of different genres and so we got mellow songs, and heavier songs, and upbeat songs. But definitely yeah, I think the next album will be around twelve tracks, and a lot of song diversity for sure. Those are certainly the most upbeat songs that are going to be on the record. You know, you put out music at the beginning of June; it was intentional to put out some summer jams.
AJ: How did you feel about taking on the role of co-producer for this album? What was that process like?
Tyler: That was just totally natural; that's sort of always been my natural inclination towards music, to take on a very production-based role. It wasn't really a conscious decision, it just sort of happened. It's how I think about music and it's one of the most exciting parts about music for me, kind of sculpting the songs and rearranging them and stuff like that. It was totally just a natural thing. I just happened to be sitting shotgun the whole time we were recording so it just sort of made sense.
AJ: And did you enjoy working with Tom Dobrzanski again, and can you see yourself doing that again in the future?
Tyler: Yeah totally, he's great. We've worked with him on every record we've made [laughs], so it was very natural. And this was an interesting recording process, because all the other times we broke off like a two-month chunk of time and do fifteen or twenty songs all in one go and just be in the studio for such a long period of time. But this time we just did everything in week-long sessions so it was super relaxing. We'd just go in to do two or three songs per week, and you know, when you go and do twenty songs, it can be super overwhelming, you've got a big flowchart of all the things you've got left to do, and it's kind of daunting, but this was just so easy. We just went in and gave every song the attention that it deserved. By the time we were done it didn't even feel like we had made a record. It kind of felt like we'd been dabbling and messing around in the studio. It's good.
AJ: Definitely sounds a little bit more fun.
Tyler: Totally, there was hardly any stress. It feels like at the end of a recording time there's this final week of terror where you're looking at all the stuff you still have left to do, but there was never a moment that felt like that.
AJ: Because you had already allotted enough time to each song, it sounds like.
Tyler: Yeah, and even then some. It's like you can get all your ideas out for one song when you only focus on one or two songs at a time, because your brain is really concentrating on that one thing rather than being spread thin between all these different things.
AJ: Fantastic. Well, I've read recently that you're allowing fans to text you while you're on this tour. What led you to decide that rather than just sticking with Twitter and Facebook?
Tyler: Well, we've done it before and so we now have a permanent phone number that people can text us on, (Call or text us: 1-778-68-WHALE (94253)) and it's cool! It's the way that most people these days communicate probably the most. For that reason it feels very intimate when a fan is texting a band that they like, and it's kind of a weird thing, I think, also, and a lot of people that we're texting kind of can't believe that it's us answering these text messages. Not to sound big-headed or anything; it's just kind of like, why is this band driving around answering text messages? [Laughs] So it's neat, yeah, we've had some pretty funny conversations with people.
AJ: It sounds rewarding for the fans, I think, as well. Very neat. Just quickly touching back on your homebase — are there any other Vancouver bands that you've been working with lately or listening to?
Tyler: Yeah, totally. The quick answer for us right now is We Are The City, who are good friends of ours, based in Vancouver. They just put out a record called Violent, and we're all pretty in love with it, it's amazing. You should definitely check it out.
AJ: For sure, thanks. So to wrap things up, what can fans expect from your tour this summer? Will the focus be on just the upbeat sounds of I Love You, or are you going to feature some of the upcoming songs as well?
Tyler: No, we're definitely playing some songs off the upcoming record that nobody has heard yet, we're kind of road-testing stuff and yeah, some old favorites and some new ones as well.
Audio of interview below:
Photo by Vanessa Heins